Interior products made from water hyacinth material are certainly not too strange to many users thanks to the advantages of good quality, safety and can be made into many products such as chairs, tables, seat cushions, etc. In the article below, let's find out immediately the features and uses of this water hyacinth furniture product.
1. What is water hyacinth?
Water hyacinth is a fast growing lily, and this round bag is made from hand-knitted water hyacinth. The plant grows widely as a weed in Vietnam, clogging large streams of water and is ideal for harvesting, basket making and especially hyacinth cushions.
2. Features of water hyacinth chair
When the movement to use environmentally friendly products, many cafes or people have the need to use and experience natural materials. Products made from water hyacinth receive a lot of attention from users, in which water hyacinth mattress products receive a lot of attention from consumers.
100% natural
Water hyacinth material is made from safe hyacinth plant for users, undergoes many stages of preliminary processing, knitting depending on the size, creating a perfect hyacinth chair product for users. For the current trend of green living, living in nature and avoiding affecting the environment, water hyacinth seat cushion is a good product not to be missed.
Enduring with time
Seat cushion products after being processed, processed, and knitted always ensure durability, good resistance to force, and can hardly be distorted. Under good storage conditions, this is a product that can last for many years.
Various styles
Not only round shape, you can contact the manufacturer to own many other designs of cushions.
Easy to maintain, low cost
Compared to other cushioning materials, water hyacinth furniture products have good processing quality, are easy to maintain, users need to pay attention to avoid rain, long-term moisture can cause the mattress to become moldy, in addition, this product also has a cheap price and everyone can experience the product.
3. Diversity of functions
Water Hyacinth Chair Cushion Ottoman is convenient seat but also an exquisite table, this ottoman is a must-have item in every house.
This ottoman is the perfect size to function as a footrest for any accent chair, or can even function as a stand for photo frames, a tray or decorative items. This multi-functional ottoman is also a great easy solution for extra living room seating while guests are over, and can even be used as an end/side table next to a chair or sofa.
The gorgeous weave on this ottoman, rich in color and made with the utmost craftsmanship will be a guaranteed stunning addition to any room. With two timeless shape choices, round and square, you are sure to find your perfect fit.
4. How to preserve when using a water hyacinth chair?
Products made from natural materials, specifically water hyacinth, users are always concerned about how to preserve and handle the problem of mold when changing weather. Therefore, we will guide some points to keep in mind when storing this product.
You should put the stools in a dry place, avoid humid places to avoid creating conditions for mold growth. And always pay attention to hygiene and mold treatment.
5. How to clean water hyacinth chair?
One problem that many people who use natural products such as water hyacinth often encounter is after a long period of not using; or humid weather in the rainy season makes the products moldy. Here, we will guide users on how to handle this situation:
Use a damp cloth or soft bristle brush to gently scrub away the dust, dirt, etc.
– Lightly dry or dry in the sun or wind. Avoid exposure to strong sunlight, which will make the hyacinth fibers brittle, brittle and discolored. Reduces product life.
– Store in a well-ventilated place and continue to use. Do not put the product in a sealed plastic bag, because the product will "sweat" and mold on its own.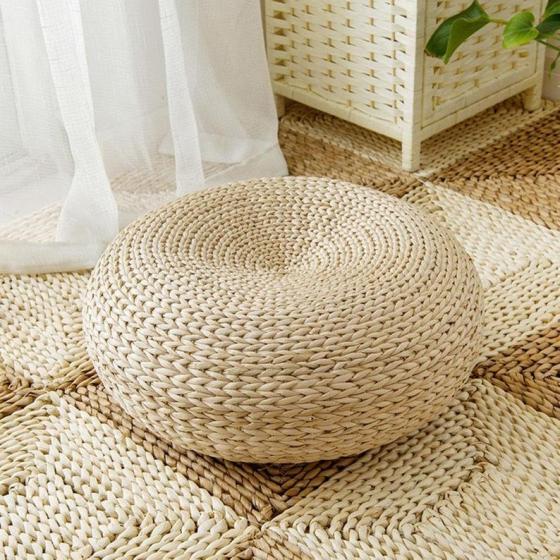 The shelf life of the product will vary depending on the intended use and storage method. Therefore, users should understand and know how to preserve the product to use it longer.
Replacing plastic chairs with hyacinth chairs not only makes your family space more luxurious and special, but you also contribute to environmental protection.