1. What is butterfly pea flower?
Butterfly pea flower also known as purple flower bean, butterfly flower. Is a flower native to South Asia, the scientific name is Clitoria Ternatea. In nature, butterfly pea flowers are diverse in color, but the most common is blue-violet.
2. Features of butterfly pea flower
Butterfly bean is a herbaceous plant in the form of cows, woody, with many branches, so it has wide coverage, is a perennial, can grow to about 3-10m tall when mature. The stem of the butterfly pea plant when young is green and flat. When old, it turns brown, the trunk and branches are thin and hairy.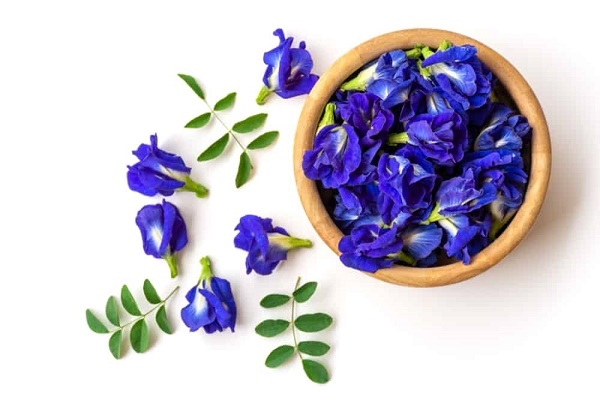 Butterfly pea flowers are purple-blue or dark green, lilac white with a fancy shape. The butterfly pea plant flowers scattered throughout the year. Bean-shaped, green fruit. When ripe, brown, mottled, containing about 6-10 seeds.
3. Benefits of Blue Pea Flower for health
The benefits of dried butterfly pea flowers have been documented to be innumerable. With two main active ingredients, anthocyanin and clioxide, the effects of butterfly pea flower tea on human health are as follows:
Reduce stress, fatigue, mental stability:
Anthocyanin essence and gentle cool scent in butterfly pea petals have a very good effect for sedation, relaxation, improving concentration when working.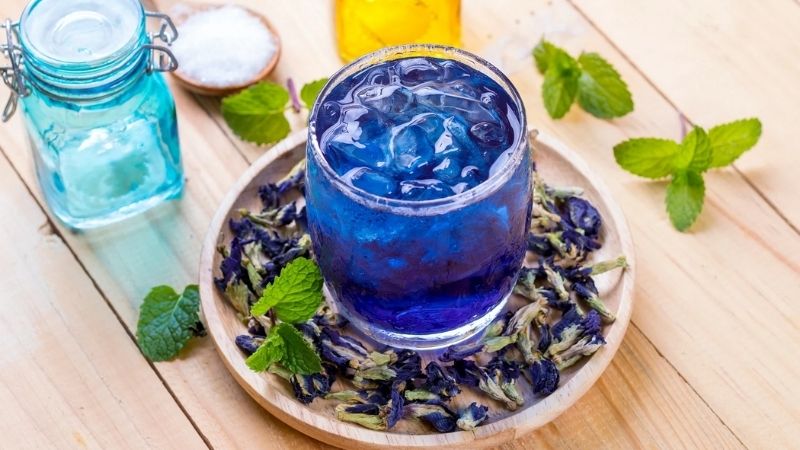 Good for the brain and heart:
The ability to remove bad cholesterol in the blood, making it easier for blood to flow to the brain. In addition, the active ingredient acetylcholine helps to enhance memory, prevent cardiovascular diseases, atherosclerosis, blood pressure, etc.
Improve vision:
Through promoting blood circulation to the eyes, butterfly pea flower tea has the ability to protect your eyes from harmful external agents. At the same time, improving vision-related problems such as cataracts, etc.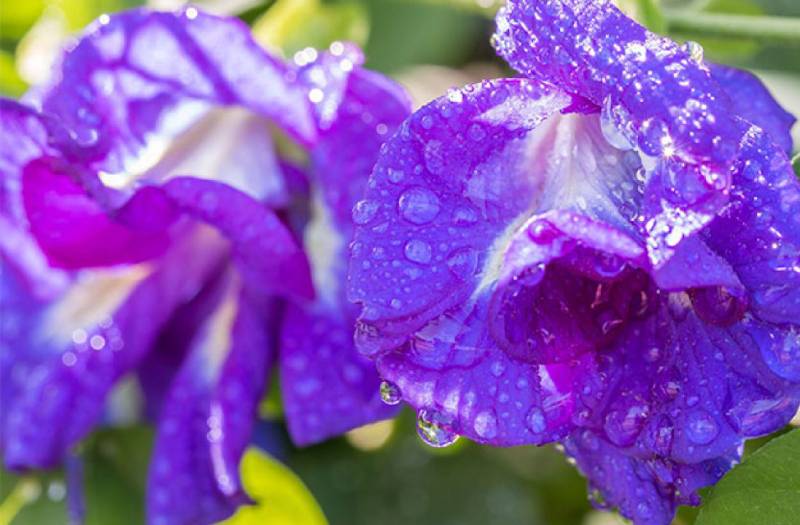 Support prevention and treatment of diabetes, cancer:
Flavonoids and antioxidants present in butterfly pea flower have the effect of stimulating insulin production, stabilizing blood sugar, eliminating free radicals, thereby drastically reducing the risks and complications of the disease.
Clearing heat, detoxifying, anti-inflammatory swelling:
Protecting the body from chronic diseases, eliminating toxins in the liver and purifying to help you stay healthy.
Butterfly pea flower tea for weight loss, anti-aging:
This is one of the effects that women are especially interested in. Flavonoids also have the ability to inhibit the breakdown of proteins, the production of new collagen for healthy, beautiful and elastic skin. In particular, the mineral EGCG found in butterfly pea flower also helps burn calories faster, thereby effectively losing weight.
4. How to make simple dried Butterfly Pea Flower Tea
When brewed, butterfly pea tea will have a gentle floral scent of grass mixed with a little sweet, cool and gentle like white chrysanthemum. The steps are as follows:
– Put 5-7g of dried flowers in a kettle or cup.
– Pour boiling water on the stomach, shake gently, rinse the flowers to hydrate and then decan.
– Continue to pour new water to cover the tea, stir gently and steep for 5 minutes.
– When you see the tea gradually turn blue, pour into a cup and proceed to enjoy.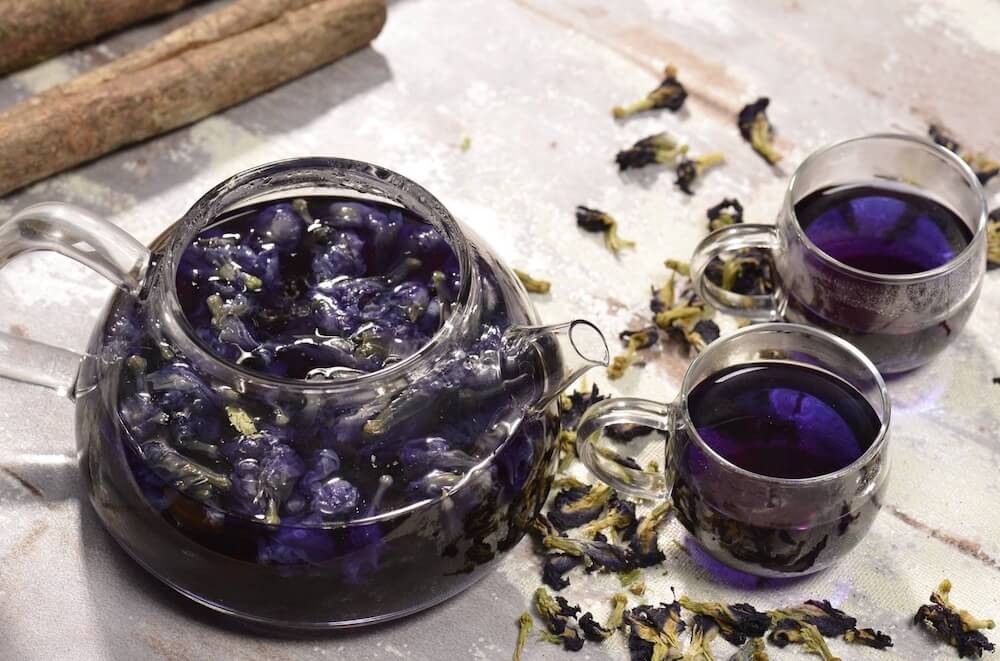 To make the tea more delicious, you can add a little rock sugar, red apple, longan, goji berries, etc. These are all herbs containing many vitamins. Contributing to replenishing energy and taking care of the body extremely effectively.
Currently, dried butterfly pea flowers are also used to process some other foods such as butterfly pea flower milk tea, butterfly pea flower lemon tea, butterfly pea jelly, etc., which are all very delicious and eye-catching.
5. Notes when using butterfly pea flower
When determining the toxicity of anthocyanins in butterfly pea flowers, no adverse effects were reported when given to adults up to 640 milligrams per day.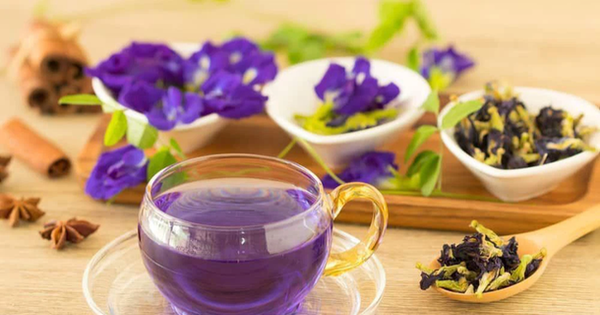 Therefore, with the level of drinking 1-2 cups of butterfly pea flower tea a day (about 5-10 flowers, equivalent to 1-2 grams of dried flowers) it is not thought to be harmful.