Chrysanthemum tea is a drink with an ethereal taste, natural sweet aroma, very easy to drink. Moreover, chrysanthemum tea also supports the treatment of diseases of the heart, digestive tract, cancer, good for health, so it is trusted by many people. However, not everyone has the conditions to enjoy this delicious tea because of the relatively high price of the finished product.
Choose flowers
You can choose white and yellow chrysanthemums but ensure a certain freshness and cleanliness for processing. The flowers that have just bloomed or are opening buds are the ideal choice for tea processing. You should choose a source of clean flowers to ensure health and safety, to avoid the situation of flowers being sprayed with pesticides that can poison tea drinkers.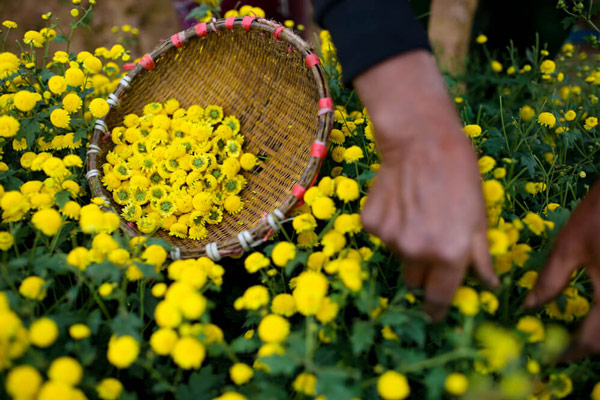 Preliminary treatment
After choosing the appropriate chrysanthemums, you proceed to cut the flower stalk, keeping only the flower. Next, you bring the flowers to soak in water to remove all dirt and mud on the petals.
Note: You should not wash the flowers with water because this can cause the petals to be crushed.
Drying
After cleaning, chrysanthemum flowers will be dried or dried. You can dry flowers directly outdoors or use a dedicated fruit dryer to save time, specifically:
How to dry chrysanthemum to make tea is quite simple and easy to do. All you need to do is arrange the flowers on a grid tray. This helps the flowers to breathe on both the top and bottom, shortening the drying time. Note that you do not stack flowers on top of each other to avoid long-drying or uneven flowers.
The way to dry chrysanthemums to make tea with a dryer has the advantage of being quick, the flowers dry evenly and are not dusty like when drying outdoors. If using a fruit dryer , you should follow these steps:
Arrange the flowers in the drying tray, note that the flowers are just one layer closed for better drying effect.

Adjust the appropriate temperature, drying time and humidity. Normally, you should dry for 30 minutes to 1 hour at 50 

°

 C.


Preserve

Store chrysanthemums in a glass jar with a tight-fitting lid is the best way to preserve them. In addition, you can also use vacuum bags or plastic jars to preserve tea. However, the usage period is limited to between 6 months and 1 year. To keep the dried chrysanthemums from getting moldy, you can add a moisture-proof bag and place the bag of dried chrysanthemums in a cool, dry place, away from direct sunlight.

The products we offer are USDA and EU certified organic with a Guaranteed Organic Certificate for each shipment.